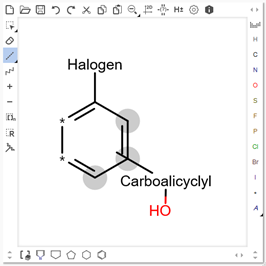 We are pleased to announce a webinar, aimed at helping scientists master the MolPort chemical structure search interface. ChemAxon's Marvin JS is a state of the art chemical structure editor that is integrated into MolPort's web interface to query the commercially available compound space. In the course of this webinar, you will be walked through the basic structure search editor interface on www.molport.com, will pick up productivity tips and advanced structure query capabilities.

Do not miss your chance to participate and register here.

ChemAxon is a provider of cheminformatics software platforms and services to optimize the value of chemistry information in life science and other R&D. ChemAxon User Meeting is a great place to meet with new developers, increase your network and participate in many ChemAxon users' and partners' presentations. MolPort will be there to take in as much as possible and so should you! We hope to meet you there!

For more information visit ChemAxon user meeting website.

Missed meeting last year? Here is MolPort presentation.

Oxford Global Conferences produces congresses and summits for the Life Sciences Industry such as the Drug Discovery Leaders' Summit, Pharmaceutical Technology IT Summit, Drug Development Summit, and Proteins Congress and Biomarkers Congress. Oxford Global Conferences are exclusively focused on the life sciences sector and gather together around 1,000 industry leaders and solution providers. MolPort is one of Drug Discovery Summit Sponsors and a participant. Drop by and chat with us!

For more information visit Drug Discovery Summit 2017 website.

KNIME Analytics Platform is the leading open solution for working with data in a modular pipeline style. We use it internally and provide KNIME nodes to access MolPort compound availability data. Nodes with new functional and nodes update server coming soon. Give us to know what MolPort data you want to get with KNIME. Andrii Lozoniuk from MolPort will be one of participants of this summit. Contact us to arrange a meeting with him or find Andrii in Berlin.

For more information visit KNIME Summit 2017 website.