With the MolPort order tracking system, customers can see where their order is at any point in time – from when an order is placed until it is delivered. Keep up to date with your order!
If you have used MolPort order tracking before, please see the changes for registered/non-registered access and report sections 3 and 5.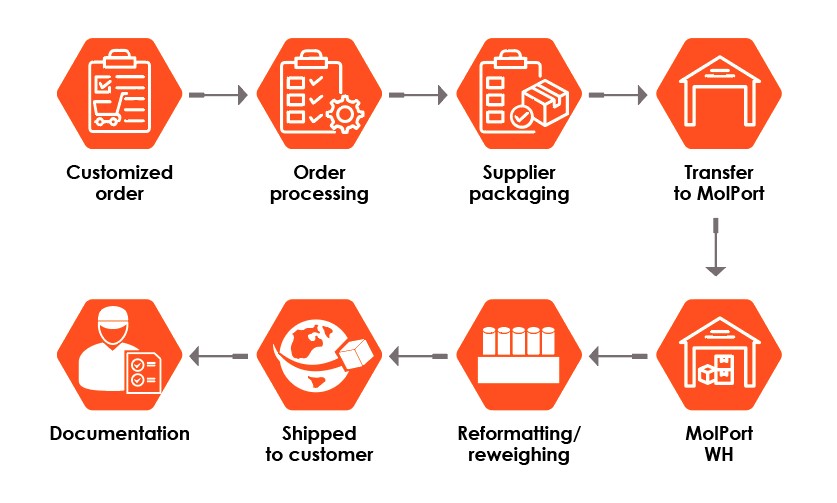 The order tracking service is available to everyone who places an order with us.
Registered users at molport.com have access to their complete order, including order packing data download, product list and information about invoices. If a customer is not registered, this can be easily done using this free Registration link.
Non-registered users can access their current order only. They can see an overview of the order: number of items, status, latest delivery date and shipment summary.
Preview of non-registered user access: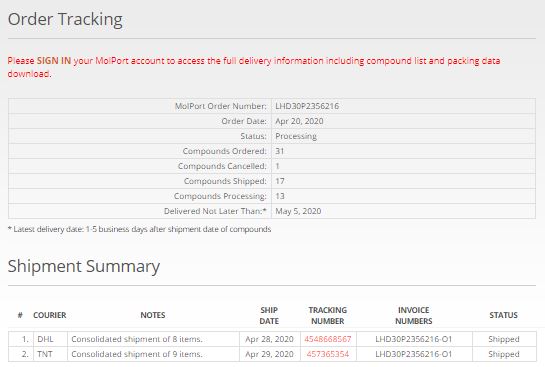 Preview of registered user access: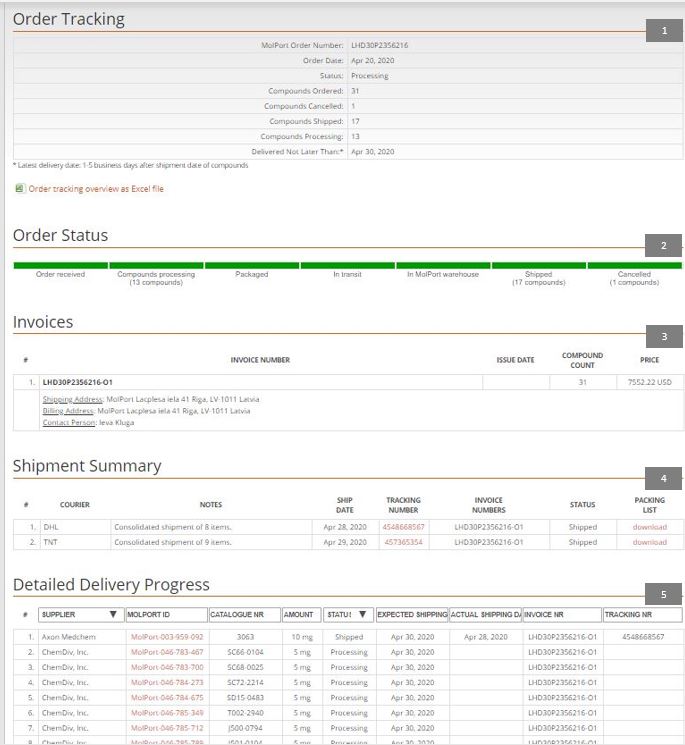 Report sections:
No.1 Order tracking
Overview of order: number of items, status, latest delivery date and shipment summary. A download link to a spreadsheet with the detailed status for all ordered products is also available.
No.2 Order status
As order transitions from one phase to the next, completed order process stages are marked green. Order may transition through following stages (actual order stages vary by order):
Order received

order has been received, registered and processed by MolPort

Compounds processing

compounds are being processed by suppliers (QC, packaging, shipment preparation)

Packaged

package has been prepared and is waiting for the shipment

In transit

compounds are in transit from supplier to MolPort warehouse

In MolPort Warehouse

compounds have been received at MolPort warehouse and are waiting for the shipment or additional services

Reweighing/

Reformatting

compounds have been received at MolPort warehouse and are being 

re-formatted in customer's preferred format – re-weighing, sample splitting, DMSO solutions

Shipped

compounds are shipped out to customer address

Cancelled

number of ordered compounds that cannot be delivered and have been cancelled from the order
No.3 Invoices
An overview of the order invoice details, including the Billing and Shipping addresses and contact person. Prior to order shipment, there is an estimated invoice value. After the order is shipped, the actual invoice number, issue date and value will be visible.
No.4 Shipment summary
A shipment summary becomes available after a package is sent out to customer address.
This includes:
Shipping courier name;
Shipment type (direct shipments from suppliers or single shipment from MolPort warehouse);
Tracking number (including a link to real time tracking at the courier's website);
Packing list (packing data as Excel and SDF files).
No.5 Detailed delivery progress
The delivery progress report section lists the status of each ordered product. You can filter the product list by:
Supplier name
Status (In transit, Shipped, Cancelled, Processing, in MolPort warehouse)
Ordered amount
Expected and actual ship date
Invoice number and courier tracking number
We are able to follow and provide insight into the status of the order through its entire journey to the customer.