Are you planning to order larger compound sets and have them delivered before the year-end holiday break? Given the increased volume of orders in December, along with busy suppliers and couriers, we highly recommend placing your orders well in advance to ensure timely delivery and avoid any unexpected delays, such as those that may occur in the purchasing department.

Please, include enough time build and optimize the list of compounds to be ordered, to negotiate favourable terms with suppliers and do paperwork required by your organization internally.
To provide you with a clear timeline for your orders, please consider the following deadlines:
October 30th: Ideal for orders exceeding 1000 compounds, allowing for a delivery before the year-end break.
November 16th: Recommended for orders up to a thousand compounds, ensuring sufficient processing and delivery time.
December 4th: Suited for daily small orders ranging from a few to a few dozen on-shelf compounds.
These timelines are structured to provide a clear roadmap yet may change to accommodate the unique aspects of your order—be it delivery before Christmas vs. before New Year, shipping this year for next year's delivery, or requiring reformatting.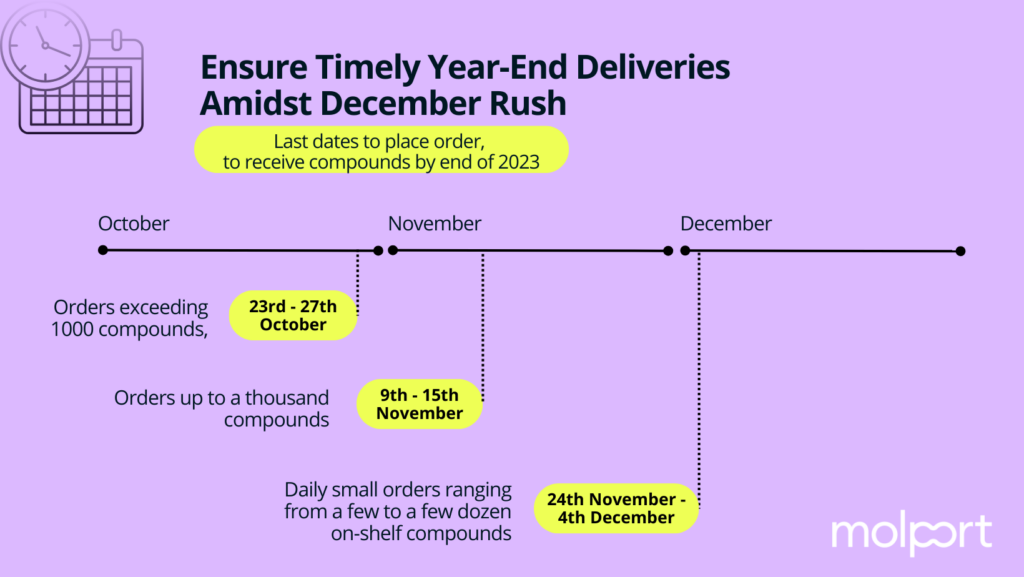 We understand the importance of your research projects and are committed to going the extra mile to support you. By adhering to these timelines, you can maximize the chances of receiving your compounds in a timely manner, even during the busy holiday season.
Cant decide what to buy:
Please don't hesitate to reach out to us at sales@molport.com with your compound list or project details, and our dedicated team will work closely with you to ensure a smooth and efficient ordering process.