Simple and secure unlimited offline access
Depending on your research needs, you or your colleagues may want more granular access to the MolPort database for deeper analysis of compound sets to enhance compound selection, such as:
Filtering
Diversity analysis
Clustering
Virtual screening
Virtual docking
As examples, the purchasing department might want to assess volume discounts, shipping costs, and delivery time; computational chemists devising a compound library could want to combine substructure searching with a minimum amount available; and the screening group might want to find closely similar structural analogs to fill some gaps in a 96-well HTS plate.
This deeper analysis is best done by downloading the required data and processing it locally with in- house, open-source, or commercial visualization and analysis tools, and MolPort makes its data available for free download to registered users, with a variety of options to select the optimum data set.
Update frequency?
While the online database is updated daily, the available download files are updated monthly. After an initial download, a Monthly Update File lists added compounds (SDfile/SMILES, MolPort ID, and stock amount) and removed compounds.
Standard FTP Download is available at no charge to registered users (limited to corporate and university email addresses), and provides all the data in the Open Access Files plus data elements such as stock amount, pack size, lead time and price range. These files are updated monthly with a Monthly Update File.
Download with special tools: the download process can be automated using scripts, automatic downloading, or workflow automation tools. This example shows how to automate the download process using KNIME.
Which Compounds?
The following database subsets are available for download, depending on your project requirements: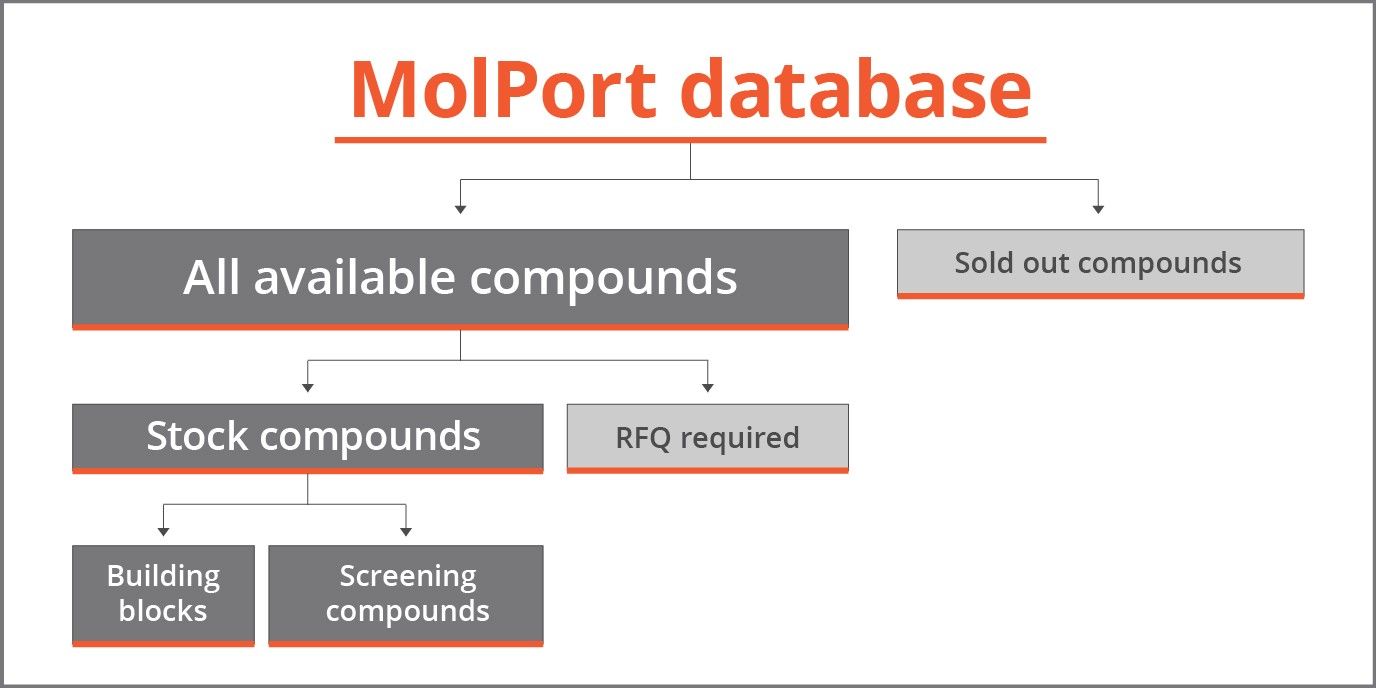 All Stock Compounds
This subset contains information on stock products which can be delivered in two weeks or sooner. The files combine Screening Compounds and Building Blocks, marked according to type.
FTP folder name: "All Stock Compounds"
File names start: "IIS"
All Stock Screening Compounds
This subset of All Stock Compounds contains screening compounds typically available in milligram quantities. Over 99% of stock screening compounds have a guaranteed purity of over 90% by H-NMR or LCMS.
FTP folder name:"Screening Compounds"
File names start:"IISSC"
All Stock Building Blocks
This subset of All Stock Compounds contains data on all stock building blocks. Building blocks are generally available in larger amounts than screening compounds. They can have higher purity or better characteristics and their lead-time is generally shorter. Building Blocks usually have one or more active functional groups, so they can be used to produce new compounds in specific chemical reactions.
FTP folder name: "Building Blocks"
File names start: "IISBB"
Full Database
This set contains full database information. The files also contain all historical information on products which were sold out, have no price defined or do not currently have specific suppliers assigned. In total, this set contains over 47 million chemical structures. Data is provided in SMILES format only.
FTP folder name: "Full DB"
File names start with: "fulldb"
Standard FTP Download
An extended version of the files described above is available for users who want access to advanced data. These files can be accessed at no charge, after acquiring a login and password. Please log in and go to FTP access page to request FTP access. You will then receive instructions for downloading the files. Note: Only users with corporate/university email addresses can receive valid credentials. Files on our FTP server are stored in folders created monthly and named correspondingly, for example "2018-04". Any chosen subset will contain a list of compressed files, where each file will contain 500,000 compounds in an SDfile or SMILES format with the associated data. Older folders contain information necessary for updating data to the current version (see below).
Monthly Update File
Each month we create a special folder – "Changed Since Previous Update", which contains data on added compounds (SDfile and SMILES files) and removed compounds (plain text files with MolPort IDs). The folder "Amount Data" contains tab-separated text files with MolPort IDs and stock amounts. This allows you to update the previously acquired information.
What information is included?