With the MolPort order tracking system, customers can see where their order is at any point in time – from when an order is placed until it is delivered, together with invoice details and packing list. Transparency to give you peace of mind.
The order tracking service is available to everyone who places an order with us.
Registered users at molport.com have access to their complete order, including order packing data download, product list, and information about invoices. Registration is easy using this free Registration link.
Non-registered users can access their current order only. They can see an overview of the order: number of items, status, latest delivery date, and shipment summary.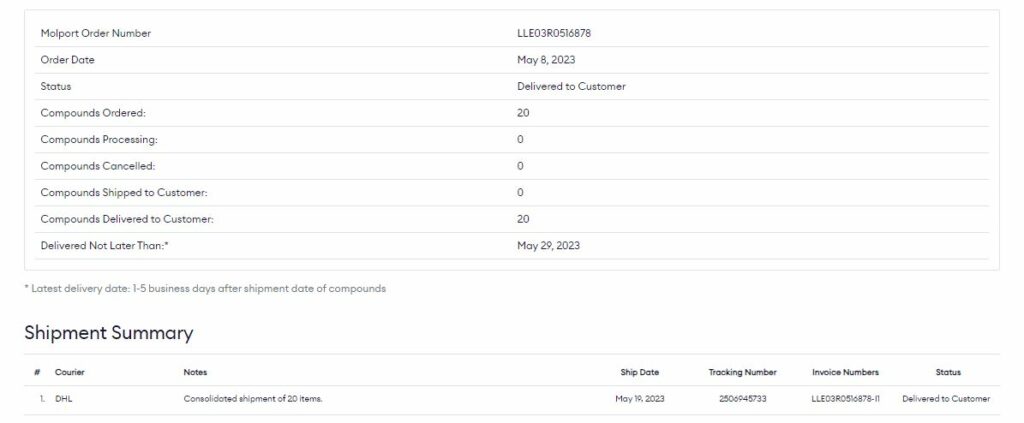 Accessing the Order Tracking Page
You can access your order tracking page:
Through the Molport website: log into your Molport user profile and chose the section "My orders" or "Orders" or click this link: https://www.molport.com/shop/user-orders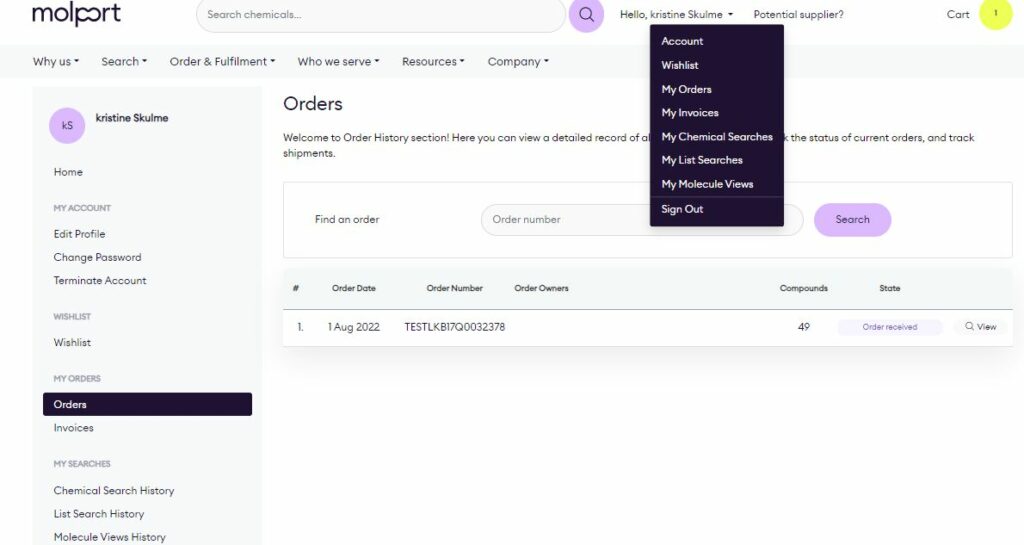 2. With the link in your order confirmation email.
The overview will be visible without logging into your account, but to access the full range of information, please log in your Molport User profile.
Tracking Order Status
Compounds move through these order stages, with details below: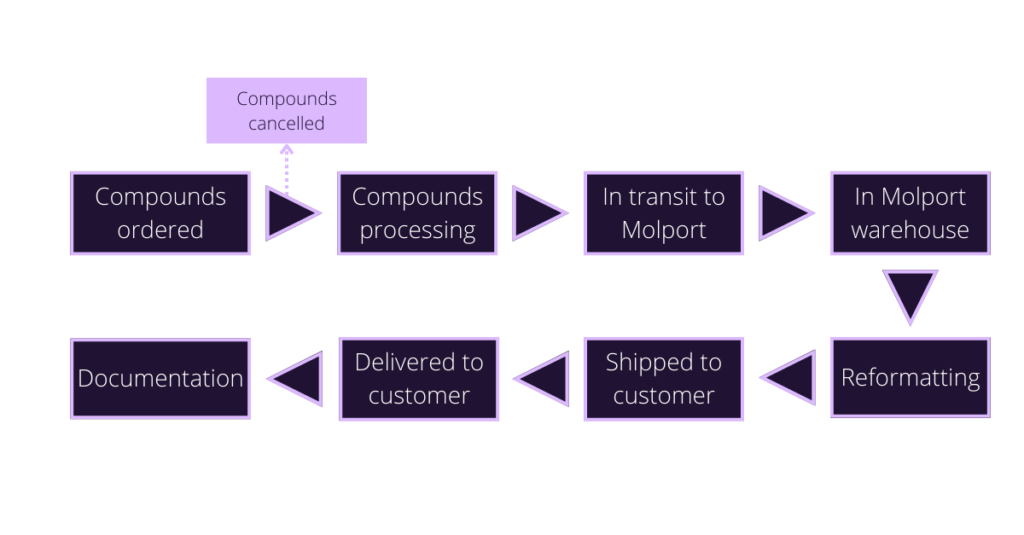 Compounds ordered: order has been received, registered, and processed by Molport.
Compounds cancelled: a number of ordered compounds that cannot be delivered and have been cancelled from the order.
Compounds processing: compounds are being processed by suppliers (QC, packaging, shipment preparation).
In transit to Molport: compounds are in transit from the supplier to Molport warehouse.
In Molport Warehouse: compounds have been received at Molport warehouse and are waiting for the shipment or additional services.
Re-formatting: compounds have been received at Molport warehouse and are being re-formatted in customer's preferred format – re-weighing, sample splitting, DMSO solutions.
Shipped to Customer: compounds are shipped to the customer address.
Delivered to Customer: compounds are delivered at the customer address.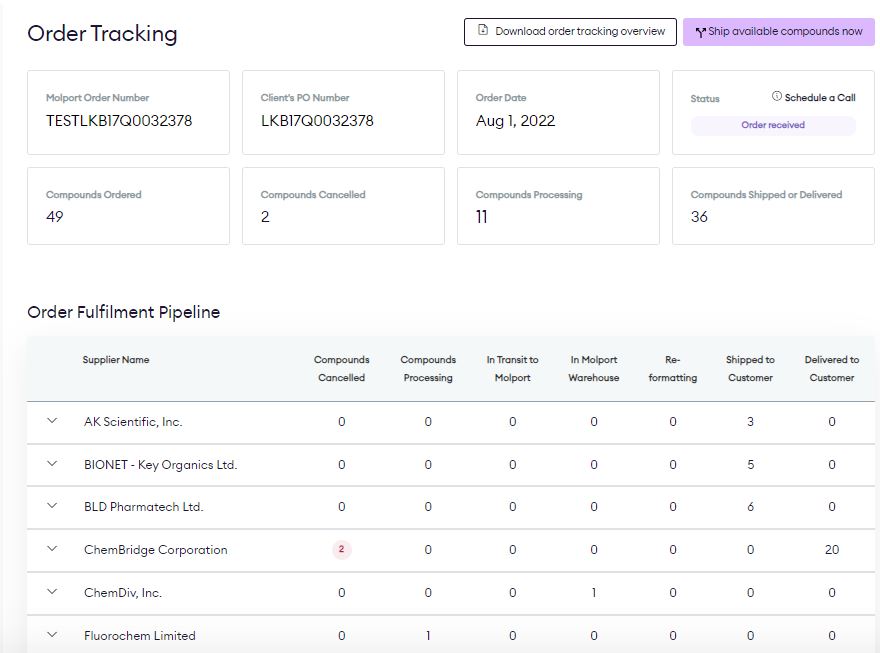 Shipment documents and invoices
A shipment summary becomes available after a package is sent out to the customer address.
This includes:
Shipping courier name;
Shipment type (direct shipments from suppliers or single shipment from MolPort warehouse);
Tracking number (including a link to real time tracking at the courier's website);
Packing list (packing data as Excel and SDfiles).

The invoices section includes an overview of the order invoice details, including the Billing and Shipping addresses and contact person. Prior to order shipment, there is an estimated invoice value. After the order is shipped, the actual invoice number, issue date, and value will be visible.

Order Updates and Notifications
Customers receive two email notifications about their orders:
The first is the Order confirmation email – when Molport has accepted the order.
The second is the Shipment notification – when compounds are shipped to the customer address.
In the case of compound cancellation, there will be email notification with details of the cancelled compound.
Please inform us if there are other people in your organization that need to be notified.
Troubleshooting and Support
If you are looking for more information about your order, you can schedule a call with Molport. You can easily do this on your order tracking page:

If you have questions, please see the FAQ section – the most frequently asked are answered there in the Logistic section.
Conclusion
Molport's order tracking feature provides transparency and convenience throughout the order process. Customers are encouraged to use the order tracking page to immediately stay updated on the status of their orders, including compound processing, shipment, and delivery.
We recommend registering on our website to unlock the full benefits of the order tracking feature. This gives you access to your complete order history, downloadable packing data, and invoice information. This simple process gives you comprehensive control over your orders.
Molport is committed to providing excellent support and ensuring a seamless order tracking experience. We value your satisfaction and are here to assist you every step of the way.
Thank you for choosing Molport for your compound procurement needs.