Latvian company, MolPort, recently celebrated its 15-year anniversary – and what a 15-years it has been! MolPort was established with a clear mission: to deliver simpler, smarter chemical compound sourcing and procurement, and in turn reduce the enormous time, cost, and effort spent by laboratories trying to find reliable suppliers.
Fifteen years ago, the compound procurement landscape looked very different compared to now. It was inconvenient at best and chaotic and fraught with risk at its worst. Throughout its 15-year history, MolPort has sought – and succeeded – to change this landscape. Here, Janis Oslejs, founder and chairman, and Imants Zudans, CEO, take a look back at history the of MolPort and how the chemical sourcing industry has changed alongside it.
A new frontier
The initial idea for MolPort can be traced back to 2004 when Janis Oslejs, was studying for his MBA. As Janis explains "We had an assignment to develop an eCommerce solution. And, as part of this assignment, I decided to visit the Latvian Institute of Organic Synthesis for inspiration."
The Latvian Institute of Organic Synthesis (LIOS) is a leading establishment for drug development, with a rich history in compound and pharmaceutical discovery. There, Janis met with Prof. Ivars Kalvins, Director of LIOS, 2003-2015; "Academician Kalvins explained to me a fundamental challenge to drug discovery – acquiring compounds for drug discovery from international vendors was complicated, or sometimes even impossible. He asked whether I could solve it."
Imants Zudans, reflected on how buying compounds internationally, even from neighbouring countries, could be incredibly difficult; "If the supplier doesn't know you and you don't have an account with them, it was virtually impossible to acquire a compound. Moreover, as a public institute, LIOS couldn't make a prepayment. They would often find themselves in a situation where they would want a supplier's chemical and the supplier wanted to sell it – but the transaction didn't happen!"
Janis was sold on the idea of solving this problem. The market was fragmented and complex chemical names made searches ineffective so, as he explains, the solution from a cursory view, was very simple: "What you needed was an eCommerce solution and an easily searchable database of drug discovery compounds. The eCommerce solution you could get 'off-the-shelf' but the database required more expertise. Consequently, Academician Kalvins suggested we team up with an Oxford University spin-out, Oxford Drug Design (formerly InhibOx), founded by Dr. Graham Richards, a pioneer in the field of computer-aided molecular design. After discussing the idea for developing a single gateway to access the world's compound marketplace, they became our partners in a joint venture called MolPort."
A chance meeting
Imants Zudans, the now CEO of MolPort, started his academic career in chemistry in Latvia but continued on to a PhD in the U.S. However, by the end a 3-year post-doc assignment at the University of Pittsburgh, Imants had made the decision to move back to Latvia, taking with him the skills he'd acquired in the U.S., and with the ambition to contribute something meaningful to his homeland. "While a steady job in the U.S. would have provided a comfortable life and financial stability, I thought – 'Wouldn't it be nice to return to Latvia and contribute something new?' So, I made the decision to leave 'the country of opportunity' and come back to Latvia. A lot of my U.S. colleagues thought I was crazy!"
Upon his return to Latvia, Imants forwarded his resume to a local recruiter. "I applied to a bunch of jobs and completely by chance, met Janis through a recruiter. I submitted my resume on Monday, interviewed on Thursday at 11 AM, and at 12:30 PM I was hired. By Sunday, I was on my first business trip to Oxford!"
As the first employee at MolPort, Imants started as a product manager but gradually took over responsibilities from Janis. Reflecting on the beginning of his MolPort journey, Imants expressed "I aspired to create a company that I – and Latvia – could be proud of. One that paid good salaries, provided opportunities for meaningful work, contributed to Latvian society, and added real value to the drug discovery industry."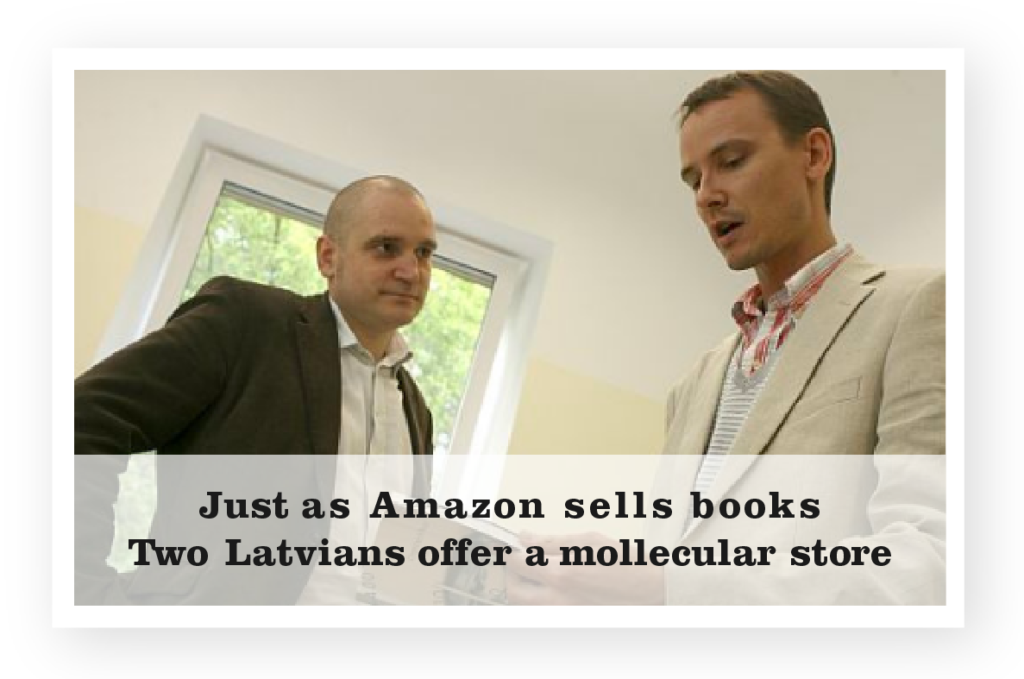 The wild west of compound sourcing
Drug development typically begins with the identification of a target. Subsequently, identifying chemical 'start points' (compounds that modulate the activity of the target) typically requires a high-throughput screen utilising thousands, if not hundreds of thousands, of compounds. Acquiring this large library of compounds was not a trivial task.
Reflecting on the early days of MolPort, Imants likened the chemical procurement environment to the 'wild west'; "There were so many companies pretending to sell chemicals. One company even claimed to have a kilo of a compound that was previously tested at NASA as a rocket fuel but deemed too unpredictably explosive to use – there is no way they could even have a gram of that in the warehouse. If they had a kilo, there would be no warehouse! It was the wild-west years of buying compounds."
He elaborated "Labs were being scammed out of money, even with legitimate suppliers. They would often list compounds in their catalogues that they didn't have in stock or weren't able to supply. This would cause problems when ordering multiple compounds, where quotes would be made for the entire order. Customers would be stuck in a communication loop with suppliers, trying to establish what they can order and for what price. Obviously, this increased lead times significantly. But even in the best-case scenarios, researchers would frequently be waiting months for their order."
Developing a single intelligent and responsive platform
To tame the 'wild west' of compound procurement, the millions of scientists worldwide needed an easily searchable database of drug discovery compounds. While superficially the solution seemed simple, Janis revealed that they quickly ran into some challenges; "We discovered why there wasn't already an easily searchable database of drug discovery compounds. It wasn't that nobody had thought about it, it was just very difficult to do. For example, we had to figure out how to build a chemical structure-centric database to enable the best search experience, as well as find a way to handle tautomers, stereochemistry, and salt forms; and perform daily inventory updates for millions of products (100 million SKU units). But, with persistence, we succeeded in creating a single, intelligent and responsive platform with flexible searching options to locate desired compounds" explained Janis.
Additionally, the database needed to be seamlessly integrated with supplier information. Imants recognized that the first step for this was to improve the transparency of chemical catalogues. By proactively working with suppliers, explaining the importance of price and stock transparency, MolPort was able to collate the necessary information to launch an online chemical marketplace.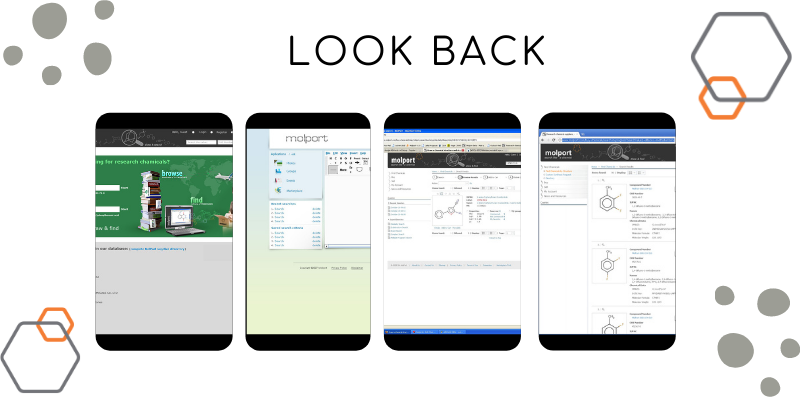 Imants illustrated how his experiences in the U.S. helped shape the launch of MolPort's online marketplace in 2011; "eCommerce as we know it today began to take off when the retail giant Amazon launched one of the first online marketplaces in 1994, which really got going in the early 2000s. This coincided with my time spent in the U.S. where I experienced the rapid growth of online shopping first-hand. Online shopping in the U.S. was simple and reliable, service level was high, and the selection was huge. And, I thought we should make online shopping for chemicals that simple. Let's take the best practices of eCommerce and try to apply it to chemical sourcing."
He adds "Now, a customer can upload a list of, for example, 10,000 compounds, and MolPort's intelligent platform can calculate the quickest, most affordable, and most reliable way to order these compounds – and generate a quote in a few minutes."
To get to a position where chemists had enough information to place a purchase order "would have taken six weeks or more previously" noted Imants. "Now, on MolPort's platform, this is possible within minutes. In drug discovery, you may need to place these orders multiple times, and consequently these six weeks can quickly turn into months. Ultimately, every delay increases the time that patients have to wait for a therapeutic."
A changing industry
Predictably, the drug discovery industry has evolved since the inception of MolPort in 2005. Drug discovery researchers used to carry out extremely large screens, involving millions of compounds. However, scientific advancements – particularly the development of cutting-edge cheminformatic tools – has resulted in the transition to more targeted screens.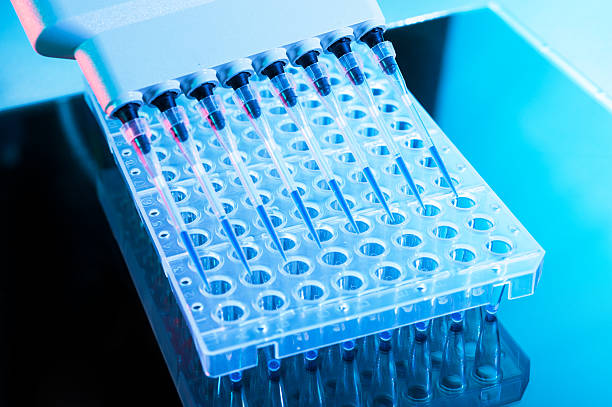 While most drug discovery scientists need to procure fewer compounds per screen than before, they typically carry-out a greater number of screens – demanding rapid procurement of hundreds to thousands of compounds at a time. To facilitate such rapid screening, the drug discovery industry is increasingly demanding compounds in a ready-to-go state. This means compounds arriving in pre-defined concentrations and formats (e.g., arranged in 96 well-plates).
However, acquiring pre-formatted compounds is not straight-forward when multiple suppliers are involved. "If you order from one large supplier, it may be relatively simple to obtain your chemical library in the right format. But when you aggregate compounds from multiple suppliers, 5% of compounds, for example, might be from small suppliers. If there is no re-formatting service, this 5% is simply removed from the order. These compounds are potentially interesting because they are unique and could be the best possibilities for new therapeutics – but they are routinely being removed from orders" explains Imants.
One option would be to re-weigh and re-format compounds in-house. However, this requires significant time, cost, and labour investment. In response to the needs of drug discovery, MolPort partnered with BioAscent in 2016 to provide on-demand, automated, and quality-controlled compound dissolution and customized reformatting services for its customers.
MolPort has since invested in its own reformatting facilities and services, bringing these in-house and making the process for most orders even faster, with simpler logistics. This has helped meet the demands of modern-day drug screening, as well as provide similar advantages to other types of organizations, including research institutions, universities, and biotech companies.

Rising to old and new challenges
MolPort has significantly streamlined the compound procurement workflow over the past 15 years, creating an easy-to-access, data-driven marketplace for compounds. But it continues to strive to deliver an even better service: "Amazon has been doing next day shipping since 2009, yet scientists must still wait weeks for compounds. In the case of a compound library, consisting of thousands of chemicals, this can extend to months. So, there is still work to do. We believe there is no reason why chemicals can't be shipped next-day" expressed Imants.
He continues "Getting there will require an industry-wide change in thinking where logistics need to become simpler and faster, and regulations less complex. But we are optimistic that we can be part of the solution. By pro-actively working with suppliers, understanding the challenges to their supply-chain logistics, and devising solutions to overcome such barriers, I think we can continue to streamline chemical acquisition and provide a seamless fulfilment experience."
Aside from reducing lead times, compound procurement still faces other challenges. Specifically, research into novel compounds has lost momentum since only large companies have the resources to fund such endeavours. Continually expanding the known chemical space is critical to driving forward drug discovery and ultimately, developing better therapeutics.
By removing a substantial amount of the bureaucratic and administrative pressures on small enterprises, MolPort helps these companies focus on science and innovation. This will help increase the rate that novel, potentially clinically important compounds get to market. Imants added, "Large suppliers have the resources to funnel into sales and marketing and attend conference shows and exhibitions – activity that is financially prohibitive for smaller enterprises. MolPort has created a platform that levels the playing field for smaller suppliers, where customers can be confident that high-standards are met, all while having access to a large selection and diversity of compounds".
Simpler, smarter chemical compound sourcing
The drug development industry will inevitably continue to evolve. However, one thing that hasn't changed in MolPort's 15-year history is a passion to collaborate with scientists and, in doing so, continually improve the compound sourcing landscape to meet their needs. Janis noted "Not only has MolPort succeeded in streamlining the chemical procurement process, but it has become a reference source for the scientific community. Our database is open-source – allowing scientists to freely access information important to their research. As a result, MolPort is regularly referenced in scientific publications. This fact alone makes our work very rewarding."
Imants added "The one constant throughout MolPort's history is our desire to make our client's project a success."
The MolPort team has strived for 15 years to make compound sourcing simpler and smarter. The next 15 years will bring new challenges. But with a team as passionate as Janis and Imants, the company will continue to make compound logistics more efficient for millions of scientists around the world.