Designing a suitably diverse, yet specifically targeted set of available compounds to explore a new structure-activity relationship or validate a new bioassay is getting easier – with new smart SAR and assay design tools developed in-house or available from open-source sites and commercial software vendors.
So far, so good. But where will you find these compounds and get them delivered, ready to run through your new bank of bioassay types? Surely that's the easy part of the process? Not so fast! The compound sourcing workflow has several linked sequential steps, and each requires attention to keep things moving smoothly. But there can be challenges at each stage, and you may already have encountered some of them, especially when you need to get the samples from several different suppliers.
The compound sourcing workflow and potential challenges: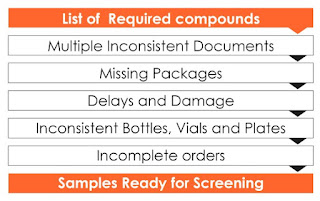 Documents, documents
Chances are that each supplier will have their own invoicing system, and each separate shipment will need its own import documents and custom fees – all of which take time to prepare. And don't expect all the suppliers to deliver on the same date, or even on the date they promise. Outsourcing these administrative overheads to an experienced consolidator can help.
Where is my package?
Tracking a single shipment from one supplier is easy enough, but what if your sample set is in 20 shipments from 15 suppliers? Tracking all these packages is another wasteful time sink which is best handled by a third party with close links to all the suppliers.
Why is my package late, and why is it damaged?
Late delivery of packages is not uncommon, and sometimes packages are damaged and the contents cross-contaminated. This can interrupt the critical timeline for your SAR or bioassay systems project. Centralized receipt and processing of the various packages can detect and rectify these issues early to keep your project on track.
Did I get everything I ordered?
Once the packages arrive, they need to be checked carefully to ensure that all the required compounds are present, and often they are not. Sometimes labels are missing key information; sometimes a compound will no longer be available; or some compounds will be delayed to a later shipment. So again, your project is on hold until these discrepancies are solved, and gaps are filled. Checking, relabeling, and quickly offering suitable replacement compounds are all available from a trusted chemical sourcing supplier like MolPort.
What am I supposed to do with all these different vials and plates?
You have received all the compounds, but are dismayed to find that Supplier 1 ships samples in large bottles, Supplier 2 in small vials, and Supplier 3 in plates – but not the format that you need – and all with inconsistent labels. So another project interruption, as you transfer, re-weigh, and re-label all the samples into your preferred bioassay format.

You may have encountered some or all of these compound sourcing challenges, and wondered if there was a better way that avoided them. The good news is that there is.
Reliable and predictable delivery of exactly the compounds you ordered, on time, and in your specified format is possible, and MolPort offers a comprehensive range of value-added laboratory services (beyond simply searching for compounds and their suppliers) to ensure this, so that you can confidently plan and execute your research projects on time and within budget.