Searching for suppliers for a few compounds at a time by name or structure is simple enough, even when additional criteria like amount required or purity are important. But what if you need to find suppliers for hundreds or even thousands of compounds – maybe to complete a targetted library for an urgent structure-activity relationship study, or to obtain a structurally diverse set of compounds to run against a new antiviral screen? And as well as matching on structure or substructure, you want specify delivery amounts, purity levels, price, lead times, etc.
For projects like these, one-by-one searching is just not practical, and this is where MolPort's List Search Tool is the solution. All users can use the tool with a basic set of filters to search their lists and create tailored quotes, and registered users can search with larger lists and match their exact sourcing requirements with the full set of powerful filters described below.
List Search Tool in Action
If you have a chemical compound list (up to 500 compounds for everyone, and up to 10,000 compounds for registered users) you can use the List Search Tool to submit the list to search the MolPort database as single query. Compound lists can be submitted as SDfiles, or as SMILES or MolPort IDs in a text file or copied from Microsoft Excel. Everyone can add basic filters to the list search, such as amount required and structure match type. You can also include internal reference numbers or compound IDs at any point in the process to facilitate seamless integration of quotes or purchase orders with your own internal sourcing and ordering processes.

Once the hit list is returned, registered users can apply an extensive set of additional filters to help refine their hit lists to best match their specific purchasing, budget, and delivery requirements, without needing to re-run the search. Filters include:
Pricing options (e.g. maximum price per compound)
Quantity ranges (e.g. required amount, acceptable amount, contingencies)
Purity levels (e.g. required level, acceptable level)
Supplier selection (e.g. select preferred suppliers, order from the fewest)
Solubility status flag
Hazard status flag
Order in micromoles
Lead time
All List Searches are retained in a Search History, so you can continue to work on the list without needing to re-run a search. Once a hit list has been filtered to your exact requirements, and the anticipated price and delivery schedules are satisfactory, registered users can generate a quote in PDF or Microsoft Excel format, or they can go direct to the online shopping cart to process the order.
Benefits
The List Search Tool saves time and administrative overhead by searching for up to 10,000 compounds in one query, and applying additional parameters to the whole list or individual items, like amount required, lead time, whether compounds are soluble or hazardous, and selecting/deselecting suppliers. As well as saving time, the Compound List Search Tool helps researchers get the optimum price and delivery schedule, so they can maximize research budgets and plan research projects for maximum efficiency.
Flexible input file allows compound lists to be submitted in commonly used formats including SDfiles, and SMILES or MolPort IDs in text files or copied/pasted from Microsoft Excel, saving data pre-processing time: and inclusion of internal compound IDs can simplify integration with internal logistics processes.
Quantity selection provides more than a simple yes/no option, and researchers can specify alternatives in the same search, with no need to re-run.
Supplier match offers options to pick preferred suppliers, get the shortest shipment list, use the most reliable supplier tier system, and achieve the lowest prices.
Budget optimization is possible by setting a maximum price per compound, reviewing nearness to a supplier volume discount, and reviewing the most expensive products, with price transparency (including shipping and handling) and no hidden costs.
Chemical specification of structure match type (perfect, exact, racemate, any)*, required purity, and solubility can all contribute to enhancing research quality.
Logistics issues can be avoided by using the hazard flag and substituting difficult-to-ship compounds with non-hazardous alternatives.
Stock solution preparation can be speeded up by ordering compounds in micromole amounts, and avoiding having to convert milligrams/micrograms to micromoles to achieve the required molarity.
Scheduling of sample delivery is facilitated by specifying a required lead time to ensure maximum project efficiency.
Planning and returning to results via the Search History saves time: scientists can return at any time to see previous searches and refine and edit a list without having to start from the beginning.
Multiple output file formats are available to support different business practices: Microsoft Excel quotes facilitate further list revision or additional calculations; PDF quotes are available to pass directly to the purchasing department for PO processing; and there is an option to place the order direct with MolPort.
Access types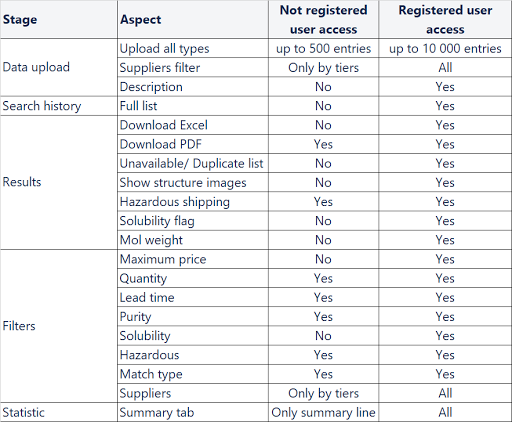 Summary
The List Search Tool saves time and administrative overhead by searching for up to 10,000 compounds in one query with additional parameters, so that researchers can achieve the optimum price and delivery schedule, maximize their research budgets, and plan their research projects for maximum efficiency.
*Current match types in list search:
Perfect – is used when the searched and found structure InChi match perfectly, aka salt information matches, isotopes match, stereochemistry match, tautomer match (except in cases where tautomeric hydrogen is part of the aromatized ring system)
Exact structure – same as previous except salt is ignored and isotopes are excluded and tautomerism is ignored
Racemate – same as previous but stereochemistry does not match and the results are only of undefined stereochemistry
Isomers (any cheapest) – same as previous but stereochemistry does not match and the results can have any stereochemistry